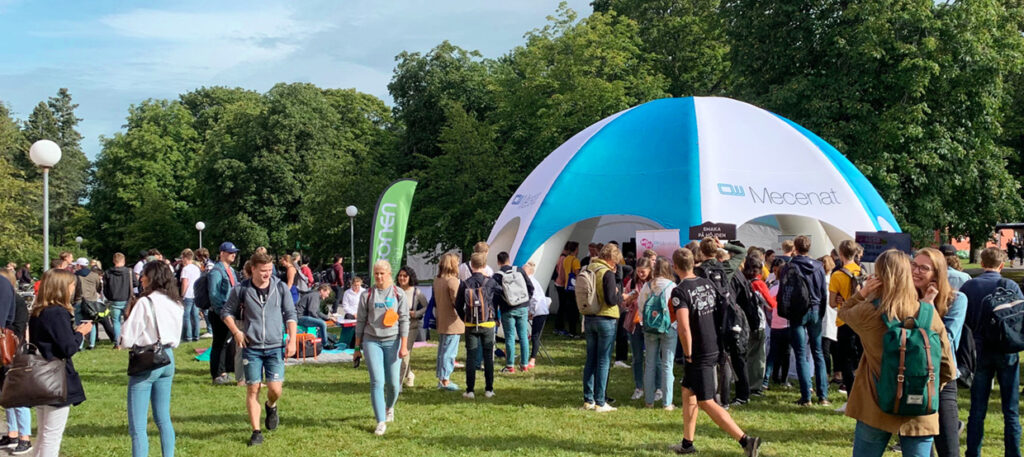 Today marks the start of Mecenat Touchdown 2022. Finally, we can go on a bigger tour and meet the students on their home turf. We visit ten campuses with our mini fair and meet thousands of students over two weeks. We will talk about our student discounts, listen to what the students want, offer coffee and snacks, some giveaways, and a chance to chill in our lounge on the way to or from the lectures.
There are a load of exciting partners accompanying us out. This year it's Chromebook, Unionen, Bookbeat, SJ, Lyko, Bokus, C-More, Samsung, KRAV, OLW and Ramlösa.
We will be at place 09-15 on each campus starting today 9/29 at the Ångström laboratory at Uppsala University. Then we continue to:
30/8, KTH – Stockholm – Carl Milles fountain
31/8, Stockholm university – Frescati by the subway
1/9, Jönköping University – The university library
2/9, Örebro university – Prismahuset
5/9, Karlstad university – At University Park
8/9, Chalmers, Johanneberg – Teknologgården
9/9, Chalmers, Lindholmen – Lindholmspiren, Kuggen
12/9, Lund technical university – The student union house
13/9, Malmö university – Bassängkajen, The student union house
For those of you who don't have the opportunity to come by, we are running a digital event parallel to the tour that everyone can visit. You will find the digital event clearly visible in both the app and on the web.
If you want to know more, contact our project manager Malin Lövberg on +46 70 337 83 92 and she has all the answers.