Demoskop and Mecenat are now launching their first report based on the Framtidspanelen, a survey panel that gathers the country's young people and students. With Demoskop's long experience in surveys and Mecenat's unique access to 1.2 million students in Sweden, a big step is taken towards better understanding an important target group. In the first themed report from UngInsikt, the focus is on students' financial situation and how it affects their student life and educational choices.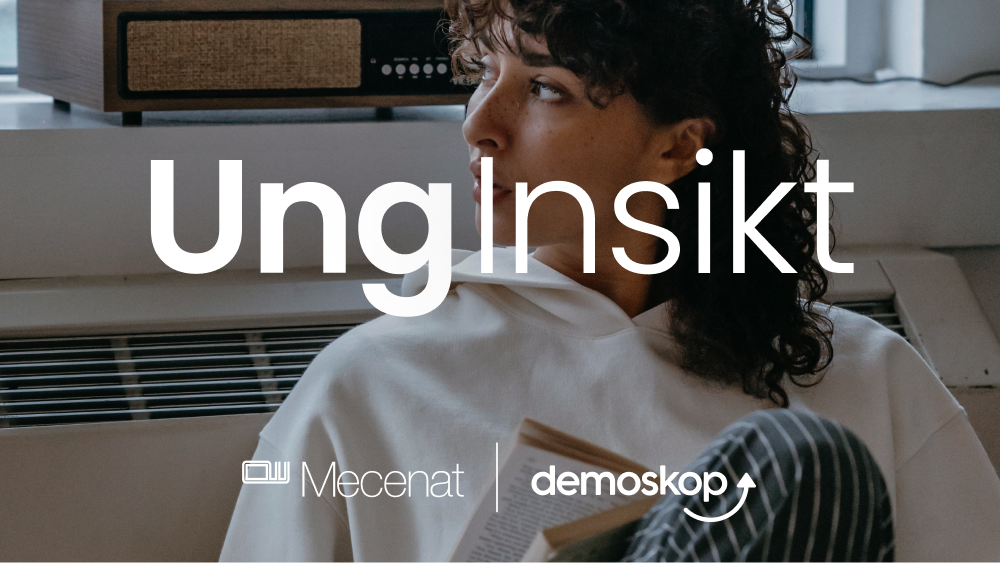 Young people have long been difficult to reach, and with declining response rates, innovative new ways to reach them are needed. Demoskop is at the forefront of developing digital survey panels through innovative techniques and relevant collaborations. At the same time, Mecenat, through its discounts for students, has established itself as the platform that all young people have heard of and have a relationship with. By combining Demoskop's research experience and Mecenat's expertise in reaching young people, Framtidspanelen aims to become the best source for understanding a dynamic and influential target group.
"In order to reach young people, we must dare to think anew. Instead of standing on the sidelines and complaining that it is difficult to reach young people, we choose to meet them where they are. Through the collaboration with Mecenat and Framtidspanelen, we intend to be part of the solution," says Pelle Ahlin Olofsson, Business Area Manager society & opinion at Demoskop.
"Mecenat has worked with students in Sweden for 25 years and knows a lot about what they like and how they act. Through the collaboration with Demoskop, we build on that. We get a solid knowledge not only of what they do, but also what they think and how they think about issues that are relevant to students and our partners," says Arber Karaqica, Marketing Manager at Mecenat AB.
The surveys will be about everything from life as a student, views on colleges and universities, lifestyle and health habits, to opinions and thoughts about current events, political views and other social issues. Questions will be regularly sent out to participants in Framtidspanelen, and the answers are completely anonymous. For those organizations or companies that have a need to get to know the target group better, it will also be possible to ask their own questions.
The first thematic report, which is based on a survey from Framtidspanelen, is launched on 26 October and deals with the financial situation of students.
Use the link below to download the report "UngInsikt: Tuffa tider för studenter – eller?"
partner.mecenat.com/se/unginsikt
For more information, please contact:
Pelle Ahlin Olofsson, Business Area Manager Society & Opinion Demoskop
Email: pelle.ahlin@demoskop.se
Arber Karaqica, Marketing Manager Mecenat AB
Email: arber.karaqica@mecenat.com
About Demoskop
Demoskop offers surveys, analysis and advice in society & public opinion, market & media, working life and business as well as private finances. The company is pioneering in method development and analysis of new data sources. The modern approach has paved the way for accurate conclusions with direct business benefit for companies and organizations.
Read more here www.demoskop.se
About Mecenat
Mecenat conveys discounts to students, alumni and 55+ and communicates regularly with more than 2.5 million members.
Through Mecenat student discounts, Mecenat Alumni, Seniordays and Finnish Frank Students, discounts are offered to make everyday life easier and make the money last longer. At the same time, we develop communication channels and build commitment for our partners. Several of the world's strongest brands use Mecenat for their communication.